DPS EASY CHOICE
This service is a type of plan and participant record keeping environment that is not tied to any specific mutual fund family; rather the Employer is free to choose from many fund families (commonly called "Open Architecture").  This allows a more diverse group of fund options under a participant-directed plan, with the goal being to optimize investment performance for the participants by using the best funds available in each asset class at the lowest possible share price.  DPS Easy Choice provides online access for participants to manage their accounts and plan their retirement savings.
WHAT IS OPEN ARCHITECTURE RECORDKEEPING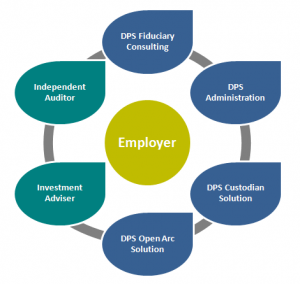 Often referred to as "daily" recordkeeping, Open Architecture is a retirement plan solution which allows an employer to select their service providers (picture to the right) and the level of service from each provider. This solution provides small businesses with the same service as large business at a reasonable price.
You have the option of choosing all or part of the provided DPS services. Regardless of how many services we provide for you now or in the future, we are always here to assist in the selection process to compare and contrast provider features and benefits. We want your plan to be the best for your business and your employees. As your plan's "gate keeper" to Open Architecture we work with all associated providers to facilitate a smooth process work flow and optimum user experience for you and your employees.

5 Benefits to Our Open Architecture Solution
Control of how revenue sharing is used
Choose from over 28,000 investment funds for your plan
Select the level of professional services that fit your needs and budget through "fee for service"
A reduction of fee(s) and an increase in returns is typical
Ability to pay plan service providers as a direct tax deductible employer expense
Snapshot of Open Architecture Services Provided
Service
Details
Record Keeper Integration

Providing access to the recordkeeping platform website for employees, employers and investment advisers allowing them to see fund balances, manage investment elections, loan modeling, etc.
Maintenance of participant records
Generating participant statements
Point of contract for questions relating to the recordkeeping platform from employees, employers and investment advisers.
Coordinating all quarterly invoicing

Custodian Integration

Access to investment choices
Facilitation of investment trades/transfers in the marketplace

Other

Master copy of participant enrollment pamphlet
Investment Policy Statement (one-time fee of $300)
Quarterly Fi360 monitoring report
Transition to Open Architecture